Federer najbardziej wartościowy na świecie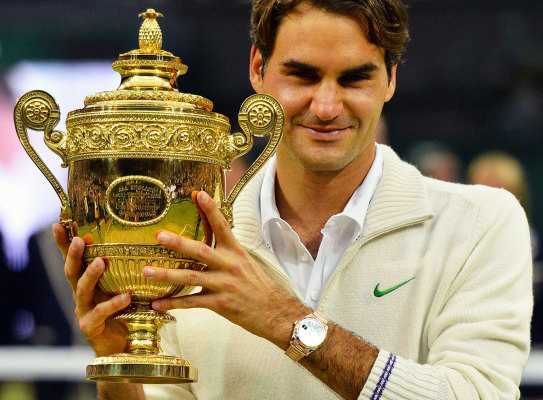 Roger Federer jest najbardziej wartościowym marketingowo sportowcem na świecie - wynika z raportu London School of Marketing.
Przy tworzeniu listy próbowano oszacować wartość marki danego sportowca. Pod uwagę brano jaki udział w ich zarobkach stanowią wpływy z kontraktów sponsorskich i ich obecność w mediach społecznościowych.
-
Roger to łagodny, uczciwy, twardo stąpający po ziemi człowiek, który poświęca czas swoim partnerom i fundacji. Firmy poszukują kogoś, kto mógłby być wzorem i Szwajcar się do tego nadaje
- ocenił wieloletni agent Federera Tony Godsick. 
W czołowej "10" zestawienia London School of Marketing znalazło się po trzech golfistów i tenisistów. W tym gronie nie ma ani jednej kobiety. Najwyżej spośród sportsmenek - na 12. pozycji - znalazła się rosyjska tenisistka Maria Szarapowa. 
Na liście jest tylko jeden piłkarz. Cristiano Ronaldo zajmuje dziesiąte miejsce.
Lista 10 najwartościowszych marketingowo sportowców według London School of Marketing:
1. Roger Federer (Szwajcaria, tenis)
2. Tiger Woods (USA, golf)
3. Phil Mickelson (USA, golf)
4. LeBron James (USA, koszykówka)
5. Kevin Durant (USA, koszykówka)
6. Rory McIlroy (W. Brytania, golf)
7. Novak Djokovic (Serbia, tenis)
8. Rafael Nadal (Hiszpania, tenis) 
9. Mahendra Singh Dhoni (Indie, krykiet)
10. Cristiano Ronaldo (Portugalia, piłka nożna)
Źródło: Rzeczpospolita
Bonus 350 PLN dla nowych graczy u najpopularniejszego bukmachera w Polsce
200 PLN cashback dla nowych graczy. Zacznij grać bez ryzyka
Wpisz kod 'meczyki' i wpłać min. 100zł, a poza bonusem 100% do 600zł, otrzymasz też dodatkowych 50zł na start!
Odbierz bonus 400PLN na start i korzystaj z szerokiej oferty zakładów i wysokich kursów