Znamy zwycięzcę Tour de France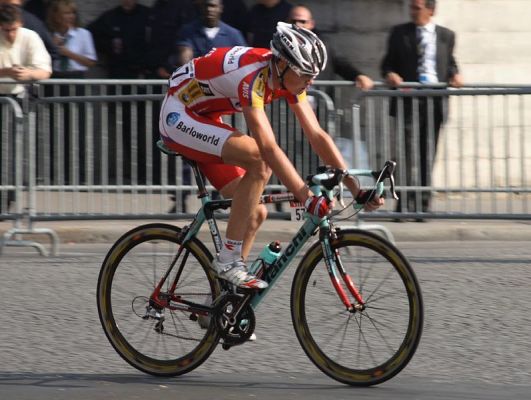 Chris Froome został zwycięzcą Tour de France 2015. Wygraną zapewnił sobie jeszcze przed ostatnim etapem wyścigu.
Jego bezpośredni rywal w walce o wygraną, Nairo Quintana, daleko w tyle zostawił lidera klasyfikacji generalnej - zajął drugie miejsce, ale do Brytyjczyka wciąż traci minutę i 12 sekund. Nie będzie mógł już powalczyć o pierwszą pozycję, gdyż ostatni etap wyścigu Toru de France, to etap "przyjaźni". Froome może zatem świętować triumf.
To pierwszy kolarz z Wielkiej Brytanii, który Tour de France wygrał dwa razy, poprzednio w 2013 roku.
Źródło: BBC Sport
Bonus 350 PLN dla nowych graczy u najpopularniejszego bukmachera w Polsce
200 PLN cashback dla nowych graczy. Zacznij grać bez ryzyka
Odbierz bonus 400PLN na start i korzystaj z szerokiej oferty zakładów i wysokich kursów
Wpisz kod 'meczyki' i wpłać min. 100zł, a poza bonusem 100% do 600zł, otrzymasz też dodatkowych 50zł na start!