Kolejny mecz, kolejny gol Łukasza Teodorczyka - osiemnasty w sezonie! [VIDEO]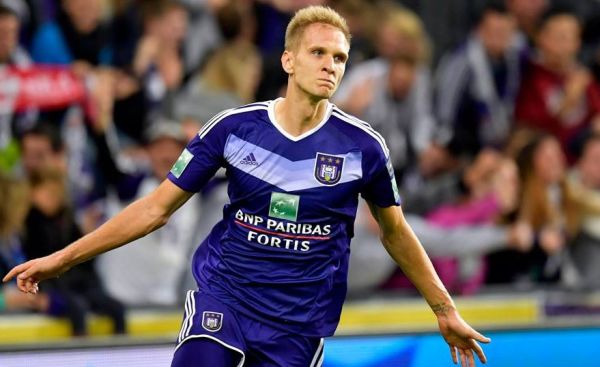 Źródło zdjęcia: www.facebook.com/rsca.be
FK Qabala przegrał z Anderlechtem Bruksela 1:3 (1:1) w spotkaniu 5. kolejki grupy C rozgrywek Ligi Europy.
Na Bakcell Arena w Baku całe zawody w szeregach gości zaliczył Łukasz Teodorczyk. Napastnik reprezentacji Polski w doliczonym czasie gry przypieczętował sukces zespołu z Belgii. 
"Fiołki" prowadziły po efektownym uderzeniu zza linii pola karnego Yoeriego Tielemansa, ale zaledwie pięć minut później wyrównał strzałem z rzutu karnego Ricardinho. 
Brazylijczyk niespełna kwadrans przed końcem mógł zdobyć drugiego gola, ale tym razem zmarnował wykonywaną dwukrotnie "jedenastkę". To zemściło się w samej końcówce, kiedy to miejscowych pogrążyli celnymi strzałami Massimo Bruno i Łukasz Teodorczyk. Dla Polaka to osiemnaste trafienie w sezonie.
1-3, Teodorczyk with his 19th goal of the season. #rsca pic.twitter.com/myFYKciY7s

— Sporting Anderlecht (@Sporting_AND) 24 listopada 2016
Zamykająca tabelę drużyna z Azerbejdżanu doznała w ten sposób piątej porażki w bieżących rozgrywkach, natomiast niepokonane w fazie grupowej "Fiołki" po trzecim zwycięstwie umocniły się na prowadzeniu w klasyfikacji. Późnym wieczorem zajmujące drugą lokatę AS Saint-Etienne podejmie u siebie FSV Mainz 05. 
* * * * *
FK Qabala - Anderlecht Bruksela 1:3 (1:1) 
Bramki: Ricardinho 15-karny - Tielemans 10, Bruno 90, Teodorczyk 90+4. 
Czerwona kartka: Eyyubov (89. Gabala). 
Źródło: asinfo.
Dyskusja 64
Użytkownik usunięty
{{comment.created_datetime}}
(Edytowany)
{{comment.user_score.team_A_name}}
{{comment.user_score.team_A_score}}:{{comment.user_score.team_B_score}}
{{comment.user_score.team_B_name}}
Edytuj (jeszcze przez {{minuteUnit}})
Gracz meczu:
{{comment.user_person.person_name}}
{{match.score}}
{{event.team_A.minute}}'

{{event.team_A.minute_extra}}'

{{event.team_A.minute}}'

{{event.team_A.minute_extra}}'

{{event.team_B.minute}}'

{{event.team_B.minute_extra}}'

{{event.team_B.minute}}'

{{event.team_B.minute_extra}}'