Kowalczyk bezlitosny dla Legii. "Zarobki piłkarzy są kilka razy wyższe niż poziom ich ambicji"
Kamil Kaczmarek 17 sie 2018 | 16:08 30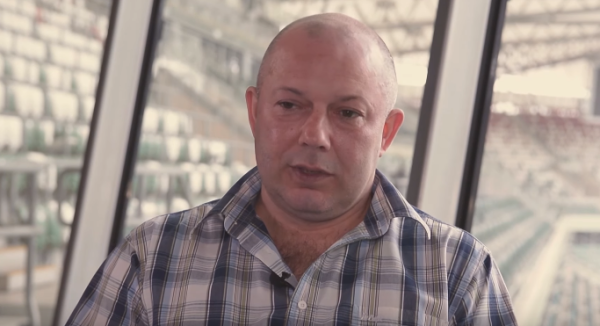 Źródło zdjęcia: YouTube
Wojciech Kowalczyk bezlitośnie ocenia Legię Warszawa. - To najsłabszy zespół w historii tego klubu - uważa były reprezentant Polski.
Legia w drugim sezonie z rzędu skompromitowała się w europejskich pucharach. Rok temu z eliminacji Ligi Mistrzów odpadła po dwumeczu z FK Astana z Kazachstanu, a w eliminacjach Ligi Europy nie dała rady mołdawskiemu Sheriffowi Tiraspol. Teraz pogromców znalazła w słowackim Spartaku Trnava, z którym przegrała w rundzie wstępnej Ligi Mistrzów, oraz w zespole Dudelange. Mistrz Luksemburga wyrzucił ją za burtę Ligi Europy.
Według Kowalczyka te wyniki to konsekwencja fatalnych posunięć obecnego kierownictwa Legii. Były reprezentant Polski nie widzi nadziei na szybką poprawę w funkcjonowaniu klubu.
- Jestem pesymistą. Boję się, że skoro rozłożenie klubu trwało dwa lata, to składanie potrwa z pięć. Ja pamiętam różne Legie. Ale tak słabej nie. Moim zdaniem to najsłabszy zespół w historii tego klubu - mówi Kowalczyk w rozmowie z "Super Expressem".
Były napastnik Legii ostro krytykuje też wielu piłkarzy mistrzów Polski. Według niego z klubu należy usunąć m.in. Eduardo, Chrisa Philippsa, Domagoja Antoljicia i Miroslava Radovicia.
- Poziom zarobków niektórych tych piłkarzy jest 5-6 razy wyższy niż poziom ich ambicji. I dlatego również jestem pesymistą, bo wiem, że niełatwo będzie się ich pozbyć z klubu. Kto ich weźmie, kto da im tak dobre pieniądze jak Legia? Piłkarze Legii są "niesprzedawalni". Oczywiście, poza Szymańskim i Pazdanem, ale ten drugi to już bardziej za jakieś drobne - ocenia Kowalczyk.
Źródło: Super Express
Dyskusja 30
Użytkownik usunięty
{{comment.created_datetime}}
(Edytowany)
{{comment.user_score.team_A_name}}
{{comment.user_score.team_A_score}}:{{comment.user_score.team_B_score}}
{{comment.user_score.team_B_name}}
Edytuj (jeszcze przez {{minuteUnit}})
Gracz meczu:
{{comment.user_person.person_name}}
{{match.status}}
'
{{match.score}}
{{event.team_A.minute}}'

{{event.team_A.minute_extra}}'

{{event.team_A.minute}}'

{{event.team_A.minute_extra}}'

{{event.team_B.minute}}'

{{event.team_B.minute_extra}}'

{{event.team_B.minute}}'

{{event.team_B.minute_extra}}'
Wyniki na żywo
{{match.status}}

'
karne
{{match.score}}
{{event.team_A.minute}}'

{{event.team_A.minute_extra}}'

{{event.team_A.minute}}'

{{event.team_A.minute_extra}}'

{{event.team_B.minute}}'

{{event.team_B.minute_extra}}'

{{event.team_B.minute}}'

{{event.team_B.minute_extra}}'
#
Zawodnik
Bramki(karne)
Asysty
Bramki
Asysty
Żółte kartki
Czerwone kartki
Łącznie